I got my motor runnin for a wild weekend.
It's finally friday! I'm outta control.
Forget the workin' blues and let the good times roll.
Nothing like starting off with a little George Jones.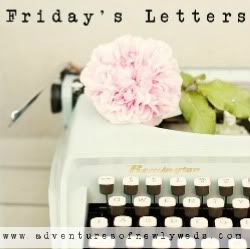 So it goes:
Dear Friday,
I thought you would never get here. This week wasn't too bad, nothing for the record books but it sure felt like it was dragging on and on....NOT FUN! Monday was pretty brutal to me but Tuesday just put the cherry on top. Some chaos at work followed by a migraine about 20 minutes after clocking out for the day. The migraine ruined all my plans of being able to go outside and enjoy the beautiful weather we have been having here in Ohio. Okay let me stop complaining because you are finally here (: Tonight we are celebrating Dave's (Grandma Spiker's hubby) birthday with some homemade mac n cheese and hanging out with family over at their house. Tomorrow we are supposed to be going to Cleveland to look at bike for Anthony and sometime this weekend I am looking forward to spending some quality girl time with Aubrey, Lauren and Shelby. Thank you friday for finally coming to our rescue!
Dear Tank,
I love you so much. Tomorrow marks a year since you moved into our house. You have been such a wonderful blessing to our family and fill our days with bunches of laughter and I think we all can say we know how to dodge your slobbers but there is still that fat chance that you sneak up on us and give us a big wet one! I am sure it is pretty funny watching us dance around trying to avoid this happening and you might think it is some sort of game but it is very disturbing. Luckily Uncle Kurt doesn't live with us anymore, I don't think he could handle it. I hope you know how much I love you little buddy and appreciate all that I do for you. Every other Wednesday when I am buying your 50 lb bag of dog food I just can't resist buying you toys and treats. This week I went a little crazy but you really needed everything I bought for you. $100 later you were a happy puppy playing with your new toy and avoiding the sprinkler I thought was such a good idea. I can't wait to take you to Dillon today when I get off work and we can work on some of your obedience skills. I think you are old enough to start fully grasping some more commands. I also want to apologize ahead of time for purchasing the underground electric dog watch fence but this is only for your safety and you can say good-bye to that chain that you stay tied to when you go out. I love you buddy! xoxo
Dear Fiance,
You are taking a big step and purchasing a motorcycle in order to save money on gas, or that's your excuse to have more fun, but please remember to be careful and always wear your helmet. There are careless drivers out there that won't be watching out for you. I cannot imagine life without you and need you here so please be careful!!!!!
I love you more than life itself babe. XXXXXOOOOOXXXXXOOOO
Dear Careless Drivers,
The love of my life is now on the roads but only on two wheels this time. Consider this a threat: If you do anything to put harm to him I will physically hunt you down and you will regret that bad decision you might have made either to run a stop sign, drink and drive, or not check your blind spot when changing lanes. THIS IS NO JOKE!!!
Dear Gabes,
Thanks again for sucking me in. I cannot resist your amazing shoe prices. This week you took $10 from me but it was totally worth it for these awesome black wedges! I love them and have already worn them twice this week. My feet are probably not thanking you for this but my wardrobe is (:
Dear Alarm Clock Ap,
Thanks for waking me up every morning and allowing me time to get ready and run out the door just in time for work. However today you did not do your job and I had 25 minutes to get a shower, blow dry my hair, style it, make-up and get dressed. Luckily I made it but my hair is in a pony tail and thank God there were no Stateys out because I would have been pulled over!

Now on to my 5 favorite things that happened this week:
1. We have been having beautiful weather. Highs in the 70s and 80s. I was so excited that we got to take the dogs on a walk and it was warm enough for them to go swimming in the pond!!! This was Tanks first official time swimming (:
2. God blessed us with wonderful sunrises and sunsets every day this week. Its the small things that reminds us that God is so great and everything that he can do.
3. I have been accumulating china from the auctions. More on that later but Grandma Price got me 4 boxes and I picked them up yesterday. I just love their character and cannot wait to see the finished project.
4. Mom treated us to Chipotle this week. I hadn't had Chipotle in months and it was delicious. Sorry body for adding those calories but I couldn't turn it down.
5. We purchased Dave Ramsey's Financial Peave University as a family this week. Really it was all Mom but Anthony and I are going to participate in it too. Dave is a motivational speaker and put together this program to help people save money and get themselves out of debt and just have a responsible financial life. I think this is good for Anthony and I to participate in since we are getting married next year and we need to be as prepared as we can be for what is to come. (Notice Mom did not want her face on the blog because she had just woken up from working the whole night lol)
I hope everyone has a great weekend and enjoy it for all it is worth.