There is roughly 18 days until Easter and I got a little crafty tonight after sitting around on Pinterest for a while looking at Easter decorations. So after Anthony left to go home I ventured into my mess of a scrapbook room (there are still decorations I was working on for Christmas laying around) and threw together some decorations for the window frame I have hanging in the kitchen. I still need to get something for the shelf in the kitchen but its one step at a time for this chick. Here is some of my inspiration from pinterest:
How stinkin' adorable are these banners?!!?!!
This one is by far my favorite, probably going to make one for the office and the mantle here at the house and possibly the bathroom.
Love the embellishing going on here!
Cute little cotton ball tails 
Here is for if your not feeling crafty or just want an easy craft. Free printables and templates are the way to go!
Pretty simple, just print and throw in a frame, not much easier than that.
Well here are my Easter banner masterpieces:
I already had the easter eggs cut out and strung up but was racking my brain for something to add because it was too plain. I decided on a banner but didn't want it to be like the tradtional banner that all the measurements are the same so I mixed it up and cut random sizes for the triangles. The letters were cut on my Cricut machine using the School Book cartridge and so were the eggs but I just cut ovals for them. I strung the eggs on thread and banner is hanging on pink jute twine.
I have been pretty busy this week getting into all kinds of fun stuff outside because Spring just skipped over us here in Ohio and its pretty much Summer. I mean Monday was a high of 74, today was 78-80 and tomorrow is a high of 88! This girl is not complaining though, I love it!!!
I am linking up over at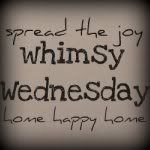 &

&
The Creative Spark
You all should check these places out link up your crafty spring projects, get ideas and meet some awesome new ladies that are out here!