On top of participating in the March Photo A Day challenge I also am participating in
Follow Friday
over at
Hollie Takes Notes
. This link up allows you to meet & follow more people and get more followers yourself. I have never really worked at getting followers. I blogged for my own good (still do) and figured if people wanted to read my posts on the rare occasions I posted then they would follow and if not well I didn't really care. Recently I decided it kinda
sucks
stinks when you know other people aren't following. I mean we all put a lot of work into our blogs and appreciate if we have some sort of an audience. So now I am attempting to follow more people in hopes of others following me and enjoying my blog. If you are looking for followers or new blogs to read head on over to
Hollie's
and link up.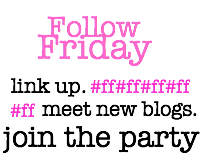 Here are the bloggers I started following today through Follow Friday:
I am currently following 3 from Follow Friday still need to find 2 more to have 5.
Alyssa was my first follower and currently my only follower. We are both from Ohio actually the same 740. Her hubby went to school with my fiance, actually we all went to the same high school. Funny story how I met Alyssa... Her and Ethan had their sweet baby girl Tay the same day my best friend/sister Aubrey had their little boy Luke. We were actually in the waiting room with her parents at the same time and Anthony knows Alyssa's Dad from the college and he took us back to show off his new grand-daughter and what do ya know it was Alyssa and Ethan's room. What a small world?! Alyssa is a great blogger and if you are looking for some awesome recipes this is the place to go. She also is great at participating in the project 356 (props to her!) Anyways Thanks Alyssa for taking time to read and follow my blog.
Tonight Anthony and I are taking my little cousin Molly to see The Lorax for Miss Molly's bday. I am pretty pumped and counting down the hours to picking her up then meeting Anthony at the theater! There will definitely be pictures tomorrow of our date! Today also happens to be Dr. Seuss' bday and why not celebrate with going to see his new movie and here is my favorite Seuss quote: