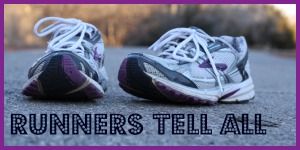 Today I am linking up with The Lady Okie and Sunshine to the Square Inch for their new monthly Runners Tell All series. Today I am sharing my running story in 250 words.
So lets get this started...
I have always been a flippy floppy runner. In elementary school I was a basketball and volleyball player, both sports involve lots of running during practice and games. In Jr High I joined the track and field team and was also still in basketball. Once high school hit I was on the swim team, good-bye running!
After graduating high school I would run a little bit and then fall off track.
September 3, 2013 I ran for the first time and did 4 miles. I decided that I wanted to become a runner, I even blogged about it here. I ran consistently and started racking up the miles into the beginning of November. Winter then hit Ohio and I found myself not being able to run outside & I absolutely despise the treadmill so I have only been able to run a handful of days in the last couple months. During the time that I am out there running I am able to really clear my head and enjoy myself.
This year I am going to run a 1/2 marathon and hopefully a couple 5Ks.
I was originally thinking about doing it this spring but the race I was originally wanting to do is May 3 and I am not real sure if I can fully prepare for it in 67 days plus unless I sign up before March 1st it is going to be $100.
So that is the shortened version of my running story but if you really want to read the longer version you can read my first post about becoming a runner. Also make sure you check out Beka and Amanda's blogs for the awesome giveaway they are doing this month and read about the other runners that are linking up and hear their awesome stories!!