Check out Ashley's NEW button for Friday's Letters!!! how cute?! I just love it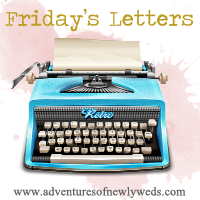 I also created my own button for my blog yesterday. It was kinda tricky figuring it out but hey it's here now! Feel free to put it on your blog and we can do a little switcheroo and I will put yours on mine (:
Thanks!
Dear Fiance,
Thank-you for taking me on your fishing trips this week even though I don't have much luck unless its a teeny tiny blue gill.
Dear Park Road 7 and Fishing Hole,
You are the bomb-diggity-bomb for taking pictures and providing me with driftwood for my projects! Thank you so much...I am sure we will be back very very soon.
I mean look at how awesome this picture is!! I haven't edited it or anything, so excited about the sunflare!
We just missed the buck that stopped by to get a drinkey drink
Just sittin' here waiting on a fish...
Dear The Lucky One,
I hope your movie is as good as the book! I love Nicholas so please don't butcher the movie, however with Mr. Efron I am sure it will be very enjoyable.
Dear Weekend,
Please be nice because I have a lot of plans. Tonight we are having a girls night and going out to eat and then going to see The Lucky One, tomorrow my friend is having a garage sale with some wedding stuff, then Tank and I are going over to Dillon for the regatta races, and Sunday Mom, Anthony's Grandma Kehn and myself are going to Columbus for the dog show. Hopefully sometime I can get in some painting on the dresser and working on the driftwood project!
Hope you all have a wonderful weekend!