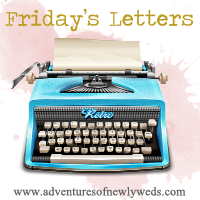 Dear body,
please get better soon! After a
typical monday
last week and having to go to the Doctor for a UTI I got a letter in the mail yesterday saying to call my Dr as soon as possible because they hadn't been able to reach me regarding my recent test results. Well I attempted to call them but of course they were closed for the day so this left me to worrying all night what could possibly be wrong?!! I called them this morning on my way to work and they told me they needed to call in an order of macrobid because there were high levels of Ecoli in my urine sample. What the heck?!?! no wonder I have been feeling super tired and weak and was still showing symptoms of the UTI. Well thankfully it was nothing super serious like a disease or anything and I can start the new antibiotic and be all better soon.
Dear Fiance,
I love you so much and am so thankful for your awesome hunting skills however we have got to get out in the woods every chance we get the next 3 days because Sunday is the last day of turkey season and I really need to fill this tag! Love you babe xoxo
Dear Vincent,
Happy Birthday Buddy! hope your day is wonderful and your sisters give you a break from all the teasing and bugging you. Also I hope we can find someone to take you out in the turkey woods this weekend so you can get a turkey too!
Dear Stephanie,
I am coming to you again today to get my hair done. You did an amazing job last time and I can't wait to have you color my hair again. Hopefully soon it will be back to the blonde that it used to be and I won't ever go brown again. Thanks girl!
Dear Friday,
I am glad you are finally here! I have had kind of an odd week but it is over and that is all that matters. Come 12:00 I am ready to enjoy you for all your worth.