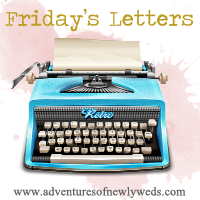 Dear Open House at Work,
I am so glad you are over. We all worked our hinies off to make it successful and successful it was! but man I was pulling my hair out all week stressing about it coming off like a hitch (not sure that was worded right?) Between hand addressing 250 envelopes to invite current patients, a mail piece sent to 1500+ people that luckily I didn't have much of anything to do other than voting on the design along with everyone else, my phone calls being recorded and making sure I was scheduling accurately all the while making sure we got everyone scheduled I am still alive but thanking God that it is over while enjoying a large glass of moscato wine.
Dear Baby Brother,
You are growing up way too fast, it makes me sad. I vividly remember our days growing up on Harper Drive and all the trouble fun we had. Saturday you are going to your senior prom and I feel like just yesterday I was attending my senior prom and you were just a lil freshman now you are a grown man. You have the world at your finger tips right now. You have so many talents and they will carry you to success but it is just up to you to make responsible decisions and not mess it up. But Saturday night you need to take a break from all the growing up business and have a good time. You and Shalene deserve to have a great night with your friends. I love you so much and cannot wait to see you all dressed up tomorrow!
xoxo
Dear Vow,
I know I am a little late but its better late than never, correct?! I still haven't seen the movie but while I was in Kmart today I wandered by the book isle and saw this and just had to get it so I can read it before I watch the movie. Hopefully I finish it really soon so I can buy the movie and watch it.
Dear Friday Night,
tonight we are celebrating Grandma Spiker's 66th birthday by going to Texas Road House. It will be nice to get together with the whole family. It will be Spiker party of 17 so it will be a crazy night out on the town but I love spending time with my family so it will be fun!
Dear Laundry,
You have been slightly neglected this week and you are definitely letting me know this. My bed is completely covered with clean clothes that either need hung back up from my ransacking for the perfect outfit to wear to work every night or just have not been put away. I would take a picture but I am too embarrassed by how messy my room is. So tomorrow when I get off I will be trying to catch up on you. Bring it on!
Dear Fiance,
we have 406 days til we tie the knot. I know this is a crazy long time but I find myself staring at my ring and thinking about the significance of it and what it really means to us. Other than it being so pretty and sparkly it is also our promise to each other for forever. I love you so much baby and am looking forward to all the crazy wedding planning we have to do. Please just don't forget to remind me to stop to enjoy our engagement so I can look back on it as a happy time and not a hectic year of my life. I love you babe! xoxoxoxoxo
I was pretty excited with taking this picture and the shine did this.
Dear Thunder Chicken meant for me,
Please expose yourself this weekend so I can get some sort of winning streak with hunting. I haven't had much luck and I really hope you let me put you in my sights. Please and Thank-You!!