Hello everyone!!!
I am back again for some more Wedding Wednesday and linking up with fabulous ladies
Jordon
&
Meredith
Today I wanted to share a little sentimental part about our wedding.
I had two necklace options to wear on my wedding day that did not involve me having to buy something new to match the earrings my Grandma Spiker gave me to wear for the big day. These two necklaces were ones that Anthony had given me when we were dating that I actually wear on a daily basis almost. Since I wear them so often I kind of thought I should get something new but I wanted to have something sentimental.
It finally dawned on me one day that the two people that I would give anything to have there with me on my wedding day would be watching from Heaven instead, my Grandpa Spiker (my Mom's Dad) and my Grandma Beulah (my Dad's Mom). Since they could not be physically present I knew I wanted to have a picture of them in a locket around my neck, close to my heart.
So the search was on. My Mom and I scoured the internet for months looking for the perfect locket.
Finally one day, like a month before the wedding, I found The One!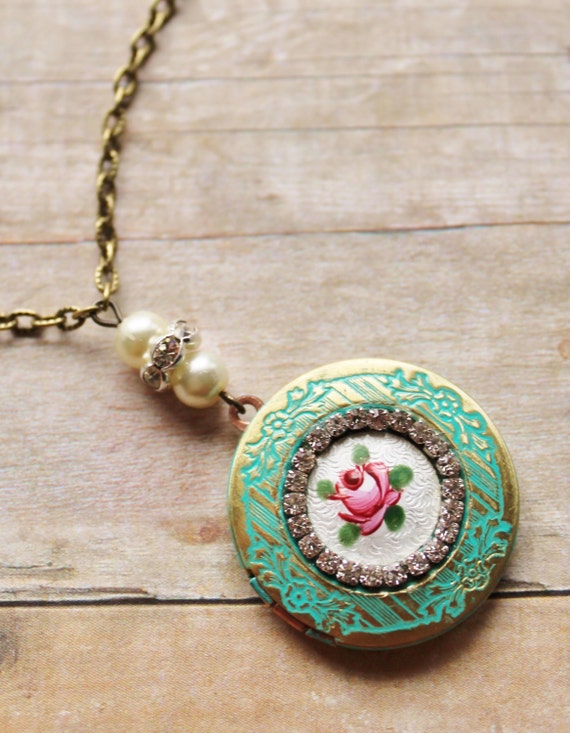 My Mom ended up ordering it for me and surprising me with it.
I absolutely loved it. The chain was a little too long so we ended up getting a new one for TJ Maxx at the jewelry counter for my wedding day. Putting the pictures in it and having them there was the perfect touch to my wedding day
Frequently I find myself wearing this locket and every time I put it on I think about my Grandpa Spiker and Grandma (that I never got to meet)
Angie
did a wonderful job and if you are looking for a locket for your wedding or any special occasion you should totally check out her Etsy Shop. She has lots of other very cute pieces.
I am personally favoring a couple pieces that I might be thinking about getting or maybe hinting to Anthony that I would like for Valentine's Day.
I really like this ring. It would match my locket pretty well too plus I love anything that shows our outdoorsy style and between feathers and arrows as a jewelry staples I like them all.
Along with the locket I wore these beautiful earrings that my Grandma gave me for Christmas.
I was going to try to find a bracelet to wear too but I decided that I didn't want to go for a real blingy look so I kept it sweet and simple
locket, promise ring from Anthony (circa Christmas 2005), earrings and most importantly the new rocks on my left hand!!!
Do any of you have a special locket that you wear? or what kind of jewelry did you wear on your wedding day? Make sure you check back next Wednesday because I am going to share a little DIY that I did for our cake toppers!!! Hope you have a wonderful Wednesday. xoxo