How is it possibly time for another Favorites post already?
The next couple months are probably going to be stuff I am finally realizing I have because one of my resolutions for this year is to not buy anything materialistic for myself or our house (with an exception of the necessities that we cannot live without) but this months do not fall into that category (phew)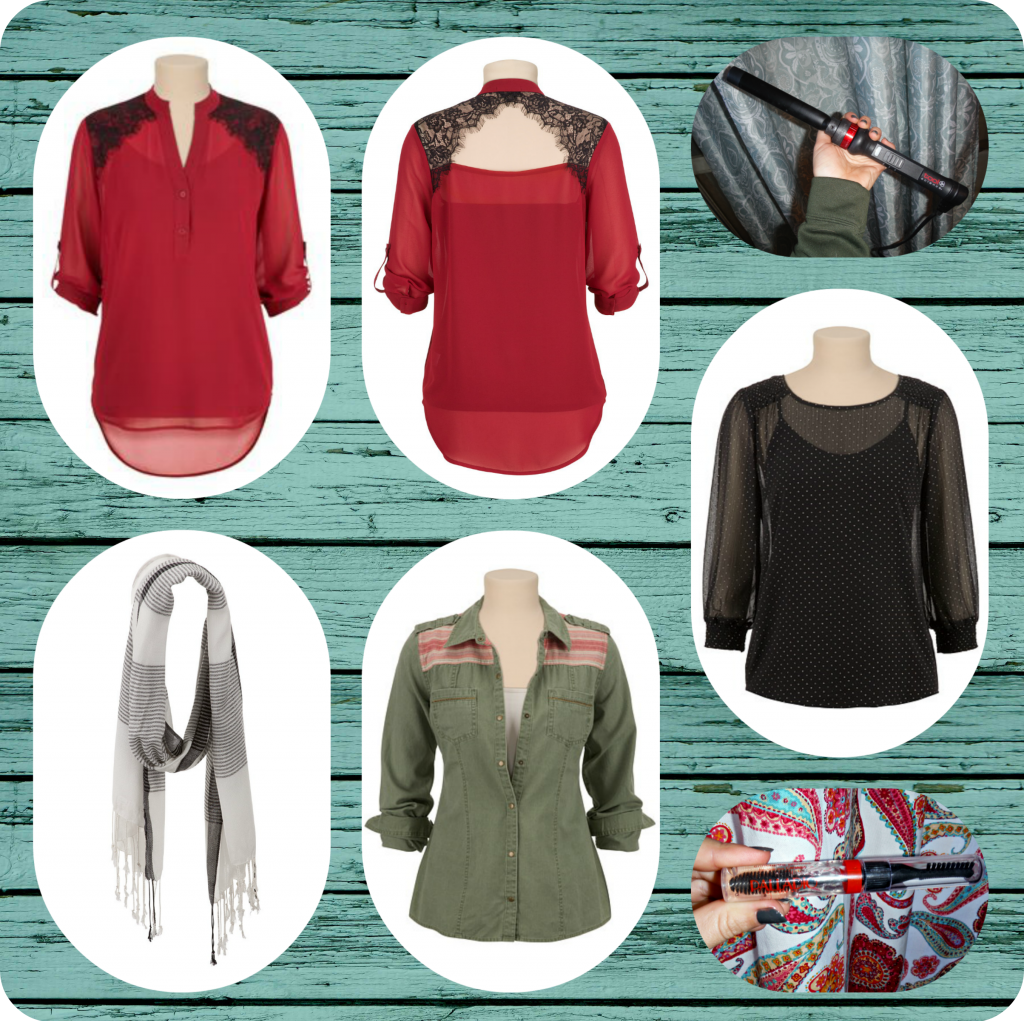 1.
Red blouse
with black lace and open back. I am not attracted to buying red tops, unless they are Ohio State of course, but this past weekend I organized our closet and put my clothes in order by color. After evaluating my reds I realized I could use a couple red tops if the chance came to get a cute one or two. Well I decided to snag a couple tops that were on sale at Maurice's on New Years Eve. I went in there searching for a top to wear out Tuesday night and found a couple other tops that I thought I need to get me through the next four months.
2.
Black with gold polka dots blouse
. I have been seeing these blouses on everyone else on IG and the Blogworld but myself. So I just had to snag one to see what the hype is all about. I LOVE THEM!!! They are very flowy and they breath easily (any more describing words?) I ended up wearing this one for our New Year Eve festivities.
3.
Stripe Shoulder Shirt Jacket
. I love this shirt and it is so comfy!! I wore it on Wednesday and was tempted to put it back on yesterday to wear to work but opted out. I paired it with this really
cute scarf
and my grey converse
4.
Tool Science Curling Wand set from Sally's
. I got a gift card for Christmas from Sally's and since the store is right beside our Maurice's in town I headed next door to see what I could find that I couldn't live without. I ended up getting a new wand because mine is tapered off and I am always trying to keep my hair on the fattest end of the wand and this set came with one that the whole thing is the same width. I ended up using it for NYE and loved the volume it gave my hair!!! and the curls were still there all day on Wednesday
5.
Palladio Herbal Brow Gel
from Sally's. I have been trying to pencil my eyebrows in because I had a bad experience almost a year ago with tweezing/threading and now they are not growing back in.
So those are some of my favorites products and clothes for January but I also had to include this video because it is definitely another one of my favorites. My favorite band, Double Cut. They posted this video on their youtube channel of the NYE celebration! If you have a couple minutes please watch this and if you live in Ohio and are around the Zanesville area (only 50 minutes from Columbus) you should totally check them out sometime.
On another subject I want to tell all of you Thank-you so much for your thoughts and prayers for Tank.
Last night we went to vet to find out what is going on and unfortunately we have to wait until Tuesday to find out what is really going on with him. My Dad ended up helping me take him since he is hard to get in and out of the car because of his leg. The vet took a look at it and said he needs to do x-rays (which they only do on Tuesday and Thursday mornings). He mentioned that it could be bone cancer and as soon as he said that I went completely foggy and couldn't even process much. They gave us some meds for the pain and swelling and directions for Monday night. Tuesday morning I am dropping him off between 7:00 and 7:30 then they have to sedate him to do the x-rays. They are going to call us a call later on Tuesday and then Anthony and I are going to go pick him and talk with Dr. Martin to see what is going on. I ended up having to call the office this morning to find out what they said yesterday about the other possibility and to see if he is allowed to have the baby aspirin with the meds they gave us last night. Seriously I have no clue what I am going to do if it is cancer that he has and desperately praying to God that he just hurt it jumping up on the couch or bed. I need your prayers too! I know God will answer our prayers and help Tank pull through this and help me too. I was a total wreck last night and ended up sleeping on the floor with him all night and today we are spending the day cuddling and watching tv. Well he is actually sleeping and I am attempting to watch tv over his loud snoring (not complaining though. Puppy cuddles are the best)
As soon as we find anything out I will definitely keep you all posted.
Thanks again so much!!!!