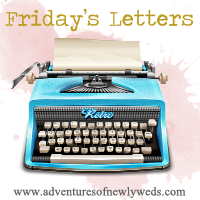 Dear Organizing Self,
I don't know what came of you but there is no complaining going on over here. You encouraged me to clear my emails of all their junkiness...I was able to get all 500+ junk emails deleted and everything else sorted yesterday and then last night I transfered all 746 pictures off of my iphone. It was getting pretty annoying having to pick and choose what pictures to delete in order to take more pictures at the time. I also sat down and planned out some goals for the month and put a schedule in my phone for my exercises, what I am planning on eating, any appointments I have, stuff I need to do, pretty much my whole days have been planned out. I feel when I do this I am so much more productive. Now if I can just stick to everything and not stray off this path.
Dear Anthony,
I was so happy last night when we both agreed to get Buffalo Wild Wings for dinner! We used to go all the time on thursdays, it was our little date night, but with the nicer weather we haven't been going I was missing them awesome wings! Even better you rode your bike into town to get them and we ate them at home, which kinda takes away from the whole date night vibe but I was already in my comfy clothes for the night and didn't really want to change. Love you babe!
Dear Tim Hortons,
You sucked me in again! I have been to see you every morning this week to get my usual, plain bagel toasted with plain cream cheese and a large strawberry banana smoothie with yogurt. You are no good for my diet or my bank account. You need to stop being so tempting and delicious! Next week I am done with you, good bye!
Dear Friday,
you are back!!! however your weather is not so nice. All week you have been a comfy often a little steamy with the sun shining but right now and your predictions for the weekend are a little cooler which I am not complaining about but there is no sun shining and it is supposed to be raining. Even though we all know that rain is a good thing why can't it just rain through the week and be nice on the weekends?! please and thank-you!