My weekend officially started at 12:30 today
typically my weekends start on Thursdays when I get off work but since the owners of the place I work at are on vacation in Florida and we had a busy schedule at the office I willingly offered to come in for the day. And boy am I glad I did because we had no down time and were super busy plus I can use a couple extra hours on my timesheet. It also made me get my day started bright and early instead of sleeping in and not getting anything productive done for the day.
We don't have any super duper plans for this weekend other than Anthony is hopefully going load my car up and bring it to our house so he can finish working on it. The dam thing hasn't started since two days before we got married and even after taking the motor out & doing whatever they thought needed done it still will not start! So we are still a one vehicle household (well Anthony drives his bike on days that its not raining) and the time is limited because we are halfway through October and Ohio's unpredictable weather it could start snowing anytime soon.
Speaking of snow I have been getting really excited about decorating for our first Christmas in our house together. We haven't really decorated much for Fall or Thanksgiving yet and I don't know if we are going to because we are on a tight budget this month and next and I don't know if I want to justify spending money on any pumpkins. Who knows though, I might do it anyways, we'll see! About the only thing I have done is make the burlap wreath I made for our entry patio and another one to hang on our camper door at our river lot. All of our Christmas decorations are still at Mom & Dad's house because last year when Anthony lived in their basement I decorated down there with some of our decorations then after Christmas I did a lot of shopping and got decorations on clearance. Since it was so long ago I can't really remember what we have so I have been contemplating going out to get our stuff but Anthony said he doesn't want to see it yet. I guess we do still have two more Holidays to get through before the Christmas season starts but this week I just couldn't help myself and I ordered a custom ornament for our first Christmas together.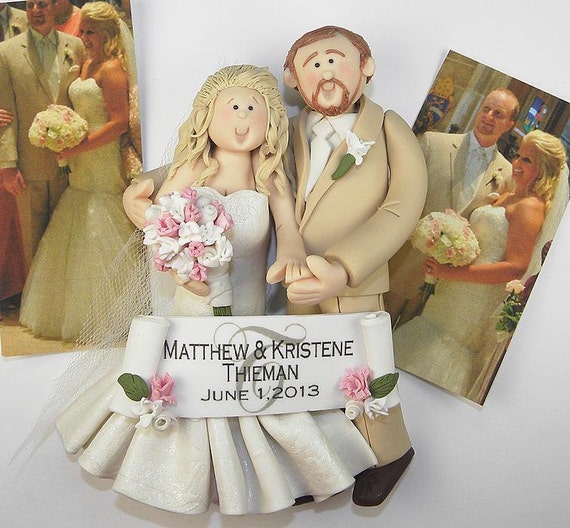 How cute is that!?!!!
I am so excited to get it but since you send in your picture and it is a custom Etsy order it is going to take a couple weeks so I am glad I ordered it so early.
I ended up ordering it (and another one for some friends that are getting married in November) from
Bert's Clay Creations
etsy store.
Please keep in mind that if you are wanting to order a custom one from her for a Christmas gift or just because then you need to put the order in before October 20th because she has had such a demand for these. I cannot wait to see what ours looks like!!!