Its November 1st, Happy November 1st!!
Where has 2013 gone?
To me it feels like it was just January and we were ringing in the new year and so excited because it was our wedding year. Now we are Mr. & Mrs.,, finally getting adjusted to living together and in 2 months 2013 will be over. It can slow down any time now so we can enjoy this holiday season. Today I am linking up with
A. Liz Adventures,
The Good Life,
Carolina Charm
and
Hello Happiness
for 5 on Friday.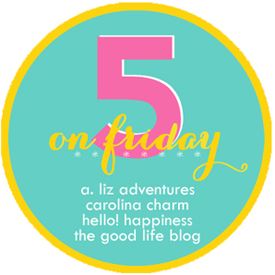 1. my blogger friend/we have met once in real life
Julie Joy
and I had a little twinning moment this week. Okay it might have been more than a little....so we both had pinned this outfit, never talked about it to each other, and neither one of us had posted about shopping and snagging awesome deals on similar skirts to the pin.


Who hasn't seen this pin popping up on their Pinterest feeds? I know almost everyone that I follow on there has showed mutual love for this girls style. So I was on the search for a similar skirt for a little while and I finally bought one on clearance at TJ Maxx for under $10. So this week I ended up wearing this for the second time to work and snapped a pic to share when I got a free chance. Well later in the day I finally had a chance to get on IG and Julie was wearing her same version of this pin...uhhhh TWINNING!!!
2. This week I blew up the big ole boob tube that was in our living room. When we moved in my Grandma's husband said we could just use the tv because we didn't have one of our own and quite frankly the thing weighs a ton and no one wanted to move it or store it somewhere else. Well I was sitting here watching it and like a minute of it being on the screen shrunk down to nothing and made a popping sound. Just like that the ole thing was dunozo! Being two weeks out of from Christmas I am under strict orders from my Mom that we are not to buy our own tv and my Grandma let us borrow one of the little tvs they had at their house... so now we are watching our shows on this lil girl...
I have no clue what to do with all the little electronic stuff we had that sat on top of the old tv so I have been looking at some Ana-White plans in hopes of building one that matches our rustic style that we have going on. As for our eyes and this little tube for the next two months we will probably just be found sitting on the floor, indian style like little 6 year olds watching our favorite shows. "Good things come to those whose wait" I just keep telling myself that.
3. Today for a little snack I made this
Simple Chili Bean Dip
that I found on Pinterest but put my own little spin on it and it was so good! This is the first time I have really broken out of my comfort zone in the kitchen and tried to make something new and also completely with just stuff I started pulling out of our fridge. I will post more about it later this week.

4. I am loving having a place to put all of our blankets and I love the
story
behind how our trunk got here. Every time I walk in our living room it puts a smile on my face.
5. I have been trying to get back into a more fitness oriented lifestyle. The whole month of October I went running 4-5 days out of this week and this week I started some basic yoga with an app on my phone. I even found a really relaxing place right off the trail where I run at the college to do the yoga. It is so calm and peaceful..