Tonight I am participating in the Simple Things Sunday linkup hosted by
Rebecca at Simple As That
blog. Its about taking a moment to capture the daily things that make you stop and thank God for all the little things he does, finding joy in the ordinary and realizing the beautifulness in your day to day through the week.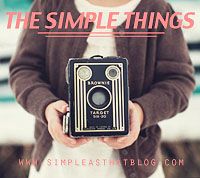 This week was definitely a very trying week for us, financially.
Even though Anthony is working two jobs and I have a secure full time job, our rent is extremely cheap thanks to renting from Family, and we have a freezer full of venison, a fridge looking a little sparse but still enough to get by and a nearly empty wood pile but enough to get us by for the weekend we got a high electric bill followed by a car problems.
We found ourselves really struggling to make ends meet.
This is life right?
this is what marriage is about, right?
We have to learn how to budget better, pay for our own bills, and remember that God will get us through these rough times as long as we remember to trust in him.
My mother in law took us out to eat Friday night with her boyfriend and the neighbor guy, Matt, and his daughter, Gabby, to The Pizza Cottage. It was a nice evening out and we were able to not be focused so much on money and more about spending time together and with Family that we don't get to see too often.
Last night we had a little last minute Pizza Party Thanksgiving get together so we can spend some time with my Uncle Matt and Aunt Lori's family because this year we are traveling out of town for Thanksgiving day and Aunt Lori has to work so they will not be joining us. We were originally going to go out to eat but I volunteered to host it at our house because I felt like we could all be more comfortable and it would be not as expensive. Plus we have not had any family members to our house for a get together since we moved in and I finally felt like the house was presentable enough to have people over. I have been working my behind off for the last 5 months to get this house back into decent shape since it sat for 7 years empty, which was very hard on it.
After everyone left Tank was very tired and worn out from all the attention he got from everyone.
I just love his face and the fact that he is such a cuddler.
Dogs really are so simple. Give them water, food and love and there really is nothing else that they demand of. So much simpler than most human beings. Our boys wait for us all day to get home. It works like clock work every day at 4:30...I am unlock the door and am greeted by wagging tales and sometimes slobbery kisses. They might be crossing their legs because they have to go out but they would rather be loved on before taking care of business.
Our Sunday was also spent with Anthony going hunting early in the morning and then heading to work at 10:00 so my day was spent cuddling on this couch with Tank and going for a little walk outside. Diesel was his usual, shy self and wanted nothing to do with the camera.
Now please excuse me while I go eat left over pizza and salad with my hubby.
I hope you all had an amazing weekend and are looking forward to a shortened week,
thanks to Thanksgiving.