First off I want to say HAPPY BIRTHDAY to
Emily from over at Beauty and the Greek
!!!
I am going to share with you a handful of products that I have been using and am loving!
Every month I look forward reading what everyone else is liking. It is kind of like doing online shopping but a little better because you know that if someone is talking about it then you know it is worth checking out.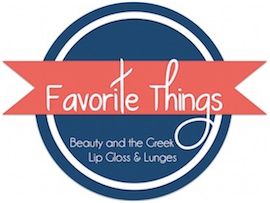 We finally ran out of our huge bottles of shampoo and conditioner that we bought months ago from Sam's Club and this winter my hair has been extremely dry so I wanted to try something different. At the same time I had been seeing commercials for Garnier's new line of hair products to help moisturize so I decided to give it a try. I have only been using it for two weeks now but my hair is feeling so much better!
At the same time I was buying the shampoo & conditioner a couple weeks ago I also decided to try something new for hairspray and a heat protectant. My Kenra that I have been using for months ran out a week prior and I kept putting off getting more because it involved going into the hair stylists and every time I thought about it they were either closed or it was very convenient for me to get there.
I am really liking the heat spray and the hairspray really lasts for most of the day for my curls.
Plus they were more reasonable than buying one bottle of the Kenra hairspray.
My MIL, Teresa, gave me this in my Christmas gift this year and I have been loving it.
I love the aromatherapy line but had never gotten this scent before and I smells so good when I take a really hot bath.
Autumn gave me this along with a whole box full of makeup that I have been picking through and trying new products out of since Thanksgiving and this is one that I have been finding myself using on almost a daily basis. It is a little darker so I am thinking about getting the next shade lighter for the rest of the winter. I love using BB creams because they just leave an even tone all over my face before putting on my powder foundation. This one is very light and when all my makeup is on it doesn't feel like I have a mask of makeup on, which is always good.
Southern Grove Almonds.
I couldn't find a link for these but I found them at Aldi and I have really enjoyed snacking on them.
Since I have been trying to snack less and eat healthier these have been perfect to have at home and by my desk. Aldi also carries other types too along with a trail mix that I haven't tried yet. At less than $3 a bag they are reasonable too.
This piece has been discontinued but if you really want it you could probably check eBay or contact a consultant and they might be able to get it for you.
I have had the hardest time finishing this book, and I still haven't but I am finally over half way through it and I am really loving the story. I am a huge Nicholas Sparks fan so I am always anxiously waiting for the next book to be out.
Anthony bought me this last week and I have been using it All. The. Time.
Make sure you all head over to Emily's and tell her "Happy Birthday!!!"