Hello Friday!!!
oh how I love thee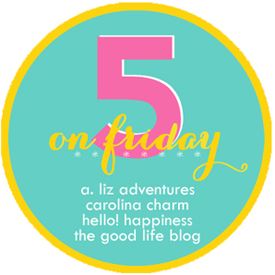 1. God is so good! I cannot believe how good he is. Most of the time my prayers are just for other family members and for our marriage to be blessed but in the last week or so my prayers definitely increased to the Man upstairs. I searched for signs that we would be okay with the decisions I needed to make and he gave them to be in more ways than one. I had to keep reminding myself of this quote I found on Pinterest.
2. Sunday my Mom and I joined my Aunt Lori, Maddy and Molly on a shopping trip to Easton. Miss Molly has been waiting for two years to get an American Girl doll. She is finally old enough and the whole experience was just that quite an "experience". The store was packed with so many little girls ooohhhhing and ahhhhing over everything in the store. Molly was overwhelmed but finally picked out her doll and we were ready to get out of there. That store seriously has everything that you can imagine! Everything from salon or bistro to little details for the dolls, hearing aids and even a wheelchair!!! I was so impressed!
No shopping trip is complete without stepping into Victoria Secret.
We ended up having lunch at BD's Mongolian BBQ
I love this sister moment I captured of these two at Anthropology
3. Exploring my Opportunities and a little stress relief.
I went to tour a vet tech institute on Tuesday this week. I had been fooling with the idea but wasn't real sure what it is I want to do so of course no commitments were made. There were a handful of positives but just as many negatives. The biggest being that my commute would be an hour and ten minutes each way -- jeepers!!! Along with the long hours in the car classes are also M-F from 8-5...goodbye quality time with my hubby.
After the tour I took advantage of the fact that Easton Town Center is 5 minutes down the road. Easton has an amazingly huge Barnes and Noble bookstore. I love Barnes and Noble and don't get in there nearly enough. It is so much better to be there by yourself to. You can wander around with no time restraints and really enjoy yourself.
I ended up buying three books; the 1st book in the Divergent series (for myself), a Charleston South Carolina tour book (for Anthony & myself to plan our vacation this summer, and a Peter Rabbit baby book for my friends Courtney & Darrin who are expecting their first baby this fall!!!
4. Interviews. This week I had not just one but two interviews (at the same place). On Wednesday I went to my first interview at a law firm in downtown Zanesville. I left there being told that I might not be contacted for a month because they were just in the beginning stages of interviewing. I was kind of concerned because being unemployed is not my favorite thing. Later in the afternoon on Wednesday I received a phone call asking if I could come back in for a 2nd interview on Thursday to be interviewed with all the attorneys. Talk about panic attack lol. Since I have very little interviewing experience due to my tendency of longevity I needed to focus on some common questions. Of course finding an outfit was one of the questions in my head too. After some careful consideration and advice from Julie I was ready to go.
My second interview lasted from 12-2 and I was interviewed by the 6 different attorneys in the office individually. It was definitely an interview experience that I had never had before and looking at it now it was an amazing opportunity!! I left the interview with positive vibes but was still told it might be a while before I was contacted. Two hours later I received a phone call telling me I GOT THE JOB! I quickly accepted and did a happy dance when I hung up the phone!!! I start my new job on Tuesday and cannot wait to start this new journey!!!
5. Giving. I love it when people help me, and I love (even more) when I am able to give back to them to thank them for all their help! There is nothing like sitting down and writing a thank-you card. Today I get to do all the above. A handful of ladies helped me in the last week with finding a new job and listening to everything I was going through. Since last week was work related and needed to remain confidential to some extent so being able to confide in someone that I knew would be trustworthy and keep quiet about the matter was not something I could just tell everyone. I was able to call my Aunt Lori from the get go and she was there to listen to me and give me the advice I needed. She was not the only one but I was definitely thankful for her during the last week. I also had the support from two of my Mom's old coworkers and friends in the unemployment process and job search. I found these awesome cards at TJ Maxx and a couple candles there too. As always I love my mason jars and gotta share them with everyone!!!