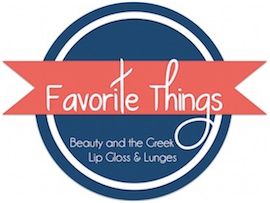 I cannot believe it is already December.
This month is going to fly by and we will be ringing in the 2014 before we know it.
Our wedding year is almost coming to an end and this year has been so much fun!
I have been having so much fun the last week getting our home ready for the Holidays
Today I am linking up with
Emilly
&
Kylie
for December Favorite Things.
Last month I did this and it was so much fun to share with everyone my favorite things of the month and see what everyone else was liking too!
Tis The Season candle from Bath and Body Works




Did anyone else hit up the 2 for $22 sale this weekend at B&BW? What a great steal and oh my gosh all the winter scents smell so good!!!Tis The Season has a mixture of apple and maybe pine and it really fills our whole house and smells amazing.

C.O. Bigelow Rose Salve Anthonys cousin's wife, Autumn, (okay my cousin in law, right?) any ways gave me a whole box of cosmetic goodies on Thanksgiving Day because she was getting rid of a bunch of her makeup and other cosmetics. Its funny because when I was younger my Aunt Erin would give me all of her gently used clothes and I always looked forward to going through them. Then after they had kids she quit giving me her hand me downs since they didn't fit me any longer and I have kinda missed getting them. Well then I marry Anthony and now I am getting goodies again. Autumn gave me this whole box and Jennifer gave me a bag of crafty stuff, including a bunch of strands of pearls that I am going to use for fillers, some alphabet stamps and letter stickers. If you girls are reading this "Thank-You so much!!" Back to the salve, I have never used this stuff before and it was in the box and my lips and elbows have been really dry (what a combo right?!) and Anthony's hands have been cracking. I started using this on Saturday and my lips are already feeling better. I officially love it! Now I just need to get another for Anthony so he quits asking me to get it for him.
Lacey Glitter Booties from Maurice's
I tried these on a couple weeks ago at Maurice's when I was looking for some dress boots for work and now I am heading back in there tonight to get them so I can wear them this weekend to Julie and Clay's wedding.

Sally Hansen Insta-Dri


Another one from Autumn! I had never used this brand and have actually been splurging and buying Essie for the last year or so for my nail polish. My only complaint was how long it always takes to dry and if you don't wait long enough it gets all smudged up and looks like crap. When I paint my nails I do not want to have to wait 15-20 minutes. Autumn included the Jet Set Jade in a case of stuff she gave me back in October and I finally tried it and loved that I was able to paint my nails and 2 minutes or less later it was dry! Then on Thursday the Style Steel was in the box that she gave me. I ended up doing the green on my nails then used the sparkly gold color as a party nail and it is so festive just in time for the Christmas season. I went ahead and put these in my purse and have been bringing them to work in case I have any touchups to make and since it drys so fast I can do it right at my desk and continue working!

Little Critter Ornaments


On Wednesday Anthony and I went to Kohls to get a couple things and I found these ornaments in there and had to get them to finish off our little nature tree that we have in our kitchen. I had a raccoon that Mom got me last year for Christmas (since it was my last year as a Kuhn, my maiden name pronounced Coon) Then in the last couple of weeks I bought a couple others at Anthropology with a birthday gift card I got from my friend Shelby.

Carhartt striped scarf


I got this scarf like 4 or 5 years ago from Anthony as a Christmas present and I still love it! All the colors allow me to wear it with pretty much anything and it is really thick. You can never go wrong with anything Carhartt for the winter.
Personalized 1st Married Christmas Ornament from Bert's Clay Creations on Etsy
My order is actually in the mail right now from Bert's Clay Creations and I cannot wait to have it in my hands. In the meantime I keep oogling over the pictures that she sent to me!!! I just love it and cannot wait to get it this week and put it on our tree!!! How freaking adorable is it?!
Those are some of my favorites so far for December, but I am sure there are bound to be more here soon! I always find stuff that I really like for myself closer to Christmas but always struggle with what to get everyone else. What are your favorite things right now? Make sure you head over to Emily and Kylie's and check out what everyone else is liking this month!!!