My friend Julie posted today about their Christmas traditions and linked up with
Holly
and it is so fun to read what everyone does as traditions. I love making traditions and that is one thing I am really looking forward to doing when we have kids, I even have a pinterest board just for traditions. But I decided that we don't have to wait til we have kids to make traditions for our little family and that we can just carry them on after we do and of course we are still carrying on traditions that we have had since before we got married and from when we were little kids that we still carry on with our parents and other family members. So here are some of our traditions from years past, some we just started or plan to do and some for when we eventually have little kiddos too.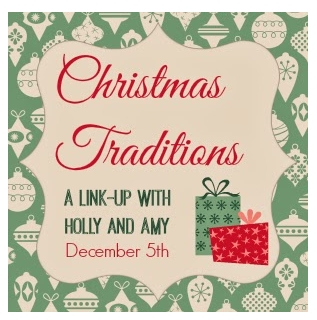 Tree decorating. I decided that instead of Black Friday shopping we were going to spend our Black Friday putting up our Christmas tree and decorating it. Along with destroying the rest of the house and getting all of our other decorations out. I had it marked on the calendar that that was what would be going on this year but since Anthony works in retail he of course had to work the morning shift so we ended up doing it Friday night but it was still just as much fun and it made us get all of our stuff out and house decorated instead of putting it off until closer to Christmas. Now we can enjoy the Holidays with our house already decorated.
Destination Ornaments. Next week I am planning on giving everyone a little Christmas Home Tour so I will definitely post more about our tree and show these ornaments. But on our Honeymoon we decided that from now on wherever we vacation to or visit that is out of the ordinary we are going to get a Christmas ornament from that place. Then every year when we are decorating our tree we can think about those fun trips and when we eventually have kids we can tell them all about our adventures and have stories to tell.
Yearly Ornament. We are also planning on getting a new ornament every year for Christmas that kind of shows where are at in our lives that year. Obviously this being our first married Christmas I had a custom Wedding Ornament made for us for this year.
Courthouse Lighting & Festival of Trees. We actually did this for the first year last night. I am planning on posting more about it tomorrow. It was alot of fun and we both decided that we will for sure be doing it again next year and the next.
Christmas Eve. We always attend Christmas Eve Mass at our Church, St. Thomas in Zanesville. Ever since I was a little kid my Mom would dress me up in cute, fluffy and frilly Christmas dresses and my brother in a little suit and tie and we would go to 5:00 Mass. When we were younger all the children were invited to sit up on the alter during the sermom which was so much fun! Obviously we don't go up to the alter anymore but we do still go to Christmas Eve Mass. There are going to be some changes this year because Anthony and I are hosting his Mom's side of the family at our house for Christmas Eve so I think we are going to go to the Midnight Mass which will be just as much fun since this year Anthony and I get to sleep in on Christmas morning.
Christmas Lights. My Grandpa Spiker was friends with this guy in Zanesville that every year he would put on an amazing light display so we always would drive through there after Christmas Eve mass and it was so much fun. Even though Grandpa is looking at those lights from Heaven now we still drive through and look at all the lights. It kind of makes it like a little bit of Grandpa is still here and the light display is amazing!
Dresden Christmas Parade. Dresden is the little town that most of my Mom's family is from and the town where my High School town is. It is 20-30 minutes from where Anthony and I live now so we are planning on still going to the parade since we always have in the past. Last year we actually got to ride in the parade with my Grandpa Kuhn on the trailer behind his tractor (the same one that was our get away for the wedding)

FUTURE Traditons For When We Have Kids
PJ's on Christmas Eve
Cookies and Milk out for Santa and Reindeer salt and sparkles in the front yard.
Yearly ornament to each kid so when they leave the nest they can have them to take with them for their 1st Christmas tree.
Family Christmas Picture.
I am so sorry for no pictures but I am having problems with my computer tonight and it is not loading any pictures which really stinks because I have so many to share from our traditions in the past.