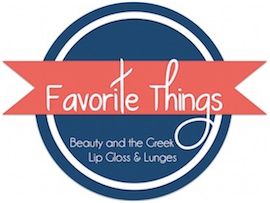 Hello Ladies!!! Once again I am back for this month's favorite things which is hosted by the fabulous
Emily of Beauty and the Greek
... every month I look forward to seeing what everyone else is loving and getting sharing some of my favorite things with all of you. I truly think the best way to get recommendations on new products is from other bloggers and people that actually use the product compared to seeing a commercial or ad in a magazine. So here are my favorites...
I scored these cute little owl salt and pepper shakers last week when I went to lunch at Cracker Barrel with some of the ladies I work with. After we ate lunch we were walking around the store and I found these little cuties for just .99 a piece. I couldn't walk away from that deal so they went home with me.
I found these awesome tea cloths at TJ Maxx and just knew I had to get them!!!
They also had these other towels that were His and Hers with a beer mug and a wine glass but I opted for these ones instead.
The same shopping trip that I bought the wine towels I scooped up these beautiful place mats.
Place mats add so much to a table and as soon as I find a light green or yellow table cloth and some fresh flowers to put on the table I will have a cute table set perfectly for Easter and well into spring. I also love how vintage classy these look.
A couple weekends ago I went shopping with my friend Shelby and we went to this store called Real Deals that had all kinds of awesome household decorations. I was seriously swooning over everything in the store and am already planning my next trip there. I couldn't leave with this cute little chalkboard pig. Since Anthony and I met in the hog barn at the County Fair pigs are sorta our thing (: Plus who doesn't love a cute little pig or some bacon with those eggs on your breakfast plate!!!?!
I also got this beverage tub from TJMaxx (I promise I am not getting paid by TJs for this post! However they should pay me to shop in their store because I find myself there way too often) it is made by Cynthia Rowley. Summer cannot get here soon enough so we can actually have some parties and use this.
The little details are awesome and Anthony has already been using the bottle opener.
Gotta break it in!
Next month I am throwing a graduation party for Anthony, then this summer I will be throwing a couple bridal showers together for a wedding that I am in plus my friend Courtney is expecting so I will be helping her Sister and SIL throw her a baby shower. I will definitely be incorporating this into all of those parties.
Last but not least is our new awesome camera that my hubby bought me!!!
I love it so much and it takes amazing pictures.
An investment in a good camera is one of the best ones you can make.
After plenty of research we ended up getting a
Canon 70D
Thanks for visiting and I am looking forward to reading everyone else's monthly favorites!!!
I hope your all having a wonderful week.