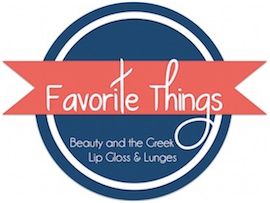 How is it even possible that it has been a whole month since last month's Favorite Things link up with
Emily
and
Kylie
? Well it looks like it actually has and I am not going to lie that February was not a fun month for me and I am thoroughly looking forward to March and hopefully some warm weather it could potentially bring along with it. Either way there should be lots of fun stuff going on this month to look forward to.
Anyways here goes some of my favorite things right now.
I got this cute owl planter from Hobby Lobby last week to put on my new desk at work to hold my pens.
These also come in a peach color and a white. I am thinking about getting a couple for here at home too!
this color is the perfect clear and pink nail polish. I think I like it so much because if it does chip during the day it is not as noticeable and I don't feel like I need to fix them while at work
Femme Couture Perfect Arch kit
I have been filling in my eyebrows for a couple months now but I just always felt like they did not match and I would spend way to long trying to perfect them. Until I bought this kit from Sally's Beauty Supply. It only takes a couple minutes and I love how they look when I am done!
Envi Nail Enamel Dryer
I had never heard of this until last weekend I was walking around CVS looking for pretty much anything to put in my basket and I found this. I didn't really believe it but since it was pretty cheap I threw it in and gave it a shot. Most of my Essie polish takes a good five minutes to really dry and now this cuts that time in half.
I cannot wait for this movie to come out. I am only half way through this first book of the series but I am definitely hooked on it and cannot wait to read it every chance I get!!!
New picture frames for my desk at my new job.
I found these frames when I found the little owl planter.
My love for blue, green and orange follows me everywhere!
I cannot help it!
Well those are just a few of my favorite things right now.
Make sure you check out what everyone else is liking right now too.
I almost always have to make a little list of stuff I need to check out after reading these posts.
Its so much fun!!!
I hope you all have a wonderful Monday and that this week goes by smoothly.